24V Industrial I/O Shield PLC Replacement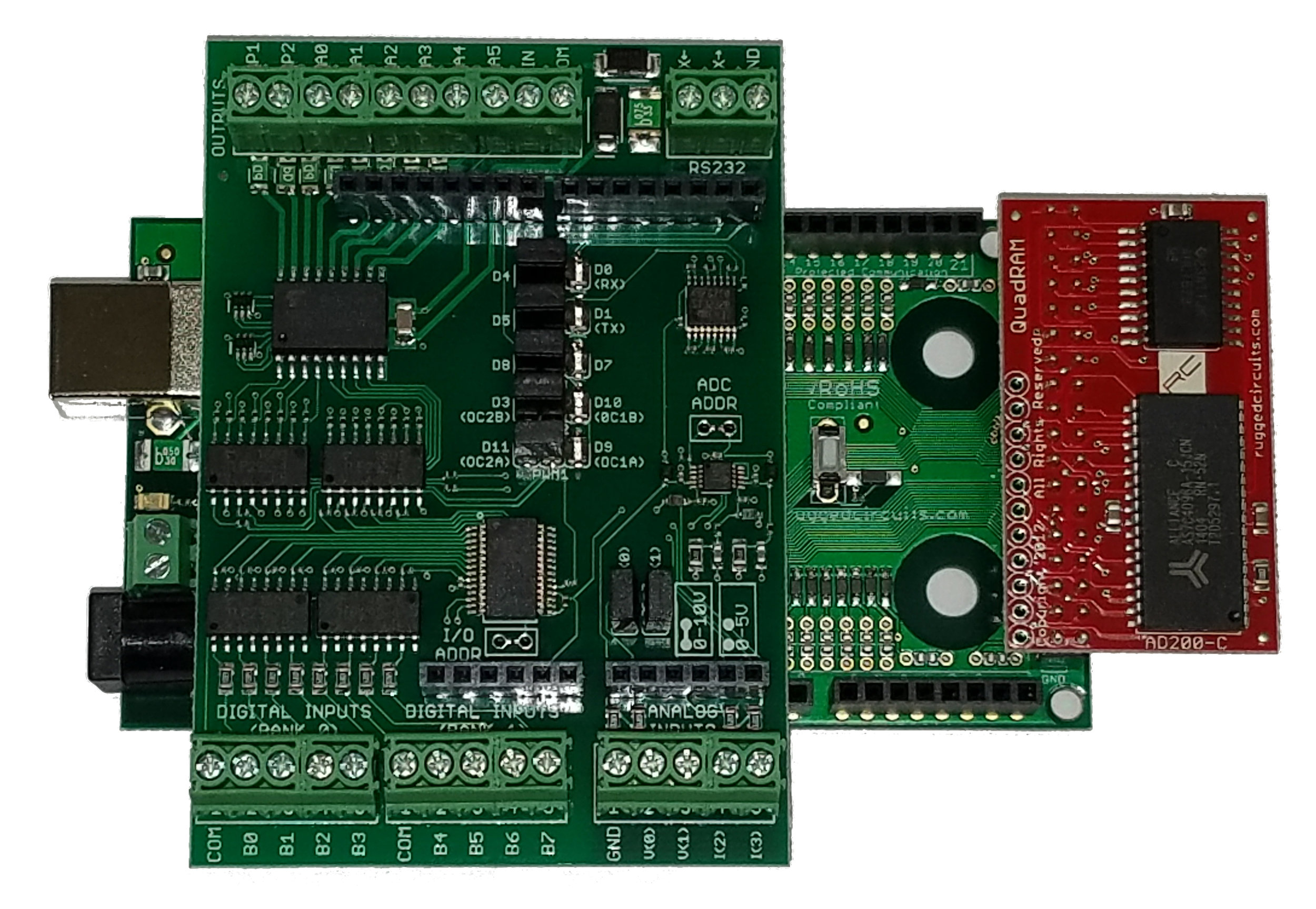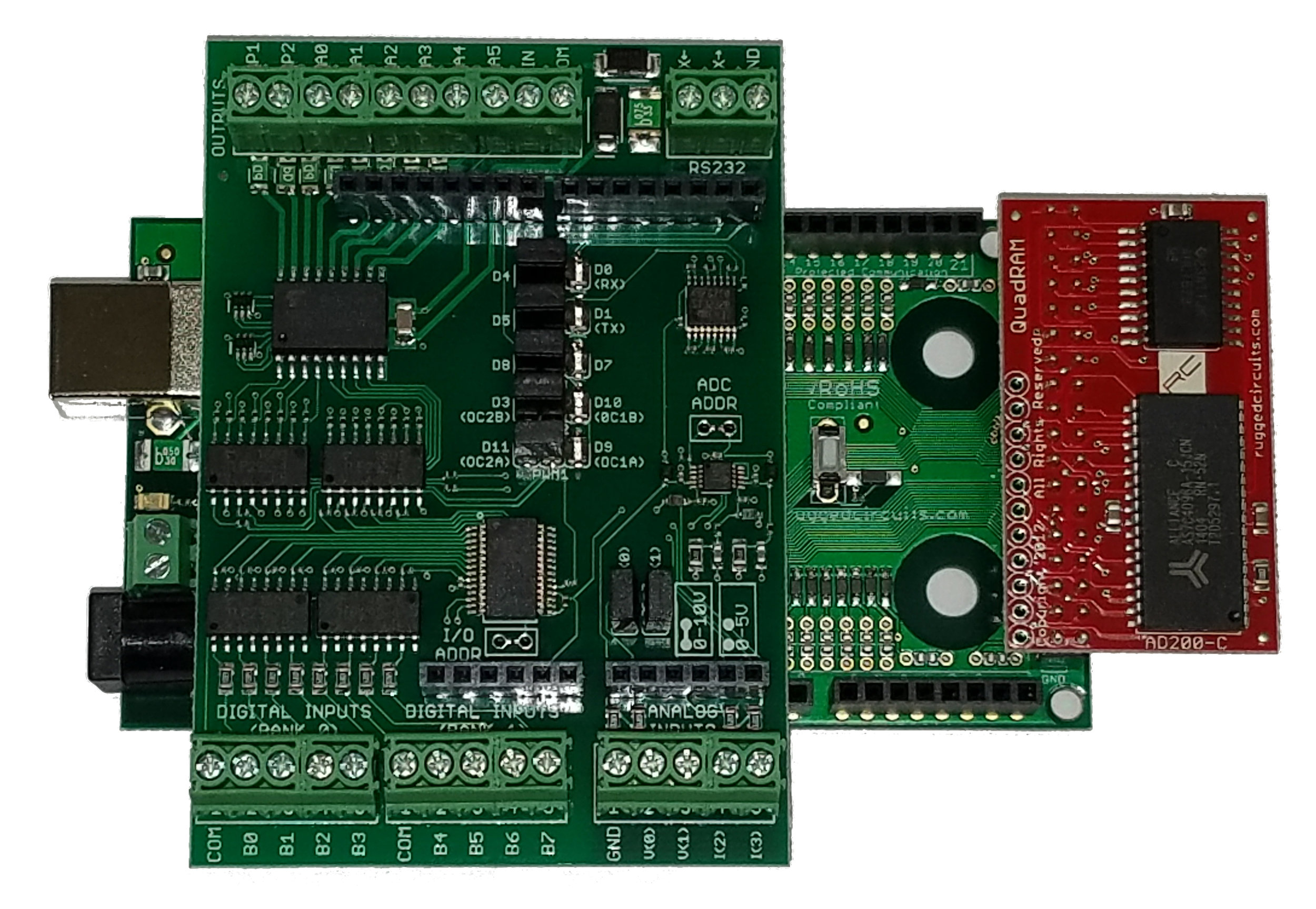 24V Industrial I/O Shield PLC Replacement
Update old, dated, and clunky PLCs with a modern Arduino/Pi based system. The Rugged Circuits 24V Industrial I/O Shield is designed to replace costlier PLC systems.
Many customers requested a ruggedized shield for the Arduino UNO/Ruggeduino and Rugged MEGA that could be used in an industrial setting as an alternative to PLCs. We listened and constructed a shield that offers many of the features found on PLCs. The feedback is already rolling in:
"Been playing around with this shield and I really love it. I've focused on the 4-20mA ADC inputs and the digital outputs." Cliff F, CA.
The 24V Industrial I/O Shield allows Arduino users to enter into the realm of PLCs at a fraction of the price. and directly integrate with 24V sensors. The feature set on the Rugged Circuits Industrial Shield is very similar to PLC offerings; 4 Analog Inputs, 8 ISOLATED Digital Inputs 3.3V-24V, 8 ISOLATED Digital Outputs 5V-28V, Status LEDs, and RS-232.
One of the first things one will notice is the amount of documentation already available for this new product. The reason for this is because there is so much that the 24V Industrial Shield can be employed to accomplish. The design is very flexible offering numerous configurations of sourcing and sinking, isolation and non-isolation, configurable analog inputs, and stacking header construction with expander circuitry to double the number of I/Os.
BENEFITS OVER PLCs:
Cost
Flexibility
Processing power and speed. No lunky ladder logic.
Modernized spin on PLC tech.
Rugged Circuits protection.
Integrate with Arduino Uno/compatible and Rugged Circuits microcontrollers.
FEATURES
Analog Inputs:
2x 4-20mA,
2x Configurable 0-5V or 0-10V
Jumper selectable between 0-5V or 0-10V
Overvoltage/overcurrent protection
Digital Inputs: 8x Isolated Digital Inputs
2 groups of 4 inputs. Each group of 4 may be configured as sourcing or sinking inputs.
Operate from 3.3V to 24V.
Digital Outputs: 8x Isolated Sourcing outputs (100mA each with a maximum sum of 750mA). 2x PWM capable.
8x Bright RED LED output indicators
Overcurrent and overvoltage protection
Operation from 5V-28V.
Six of the eight outputs are driven by the I/O expander, while 2 of them are driven from the Arduino to enable native PWM functionality.
Communication: Terminal block RS232 signal levels connected to Arduino D0/D4 (RX) and D1/D5 (TX) depending on the position of the respective jumpers.
Stackable: Up to two 24V Industrial I/O Shields can be stacked on an Arduino/Rugged device. A 24V Industrial Shield Stacking Header Kit will be needed for clearance.
Isolation: Digital outputs and Digital inputs are all Isolated for additional robustness and performance. This isolation may also be defeated by the user if necessary.
Compatible:
Compatible with the Rugged MEGA and Rugged MEGA-ET, Arduino UNO, Ruggeduino-SE and Ruggeduino-ET. Not compatible with standard Arduino Mega2560.
TECHNICAL PAGE
More information can be found on the 24V Industrial Tech Page.