Rugged Motor Driver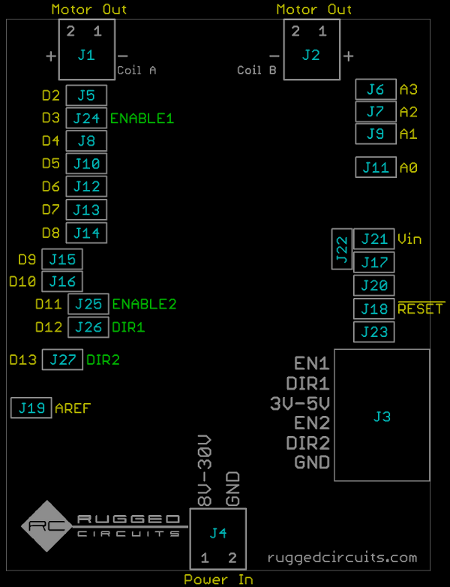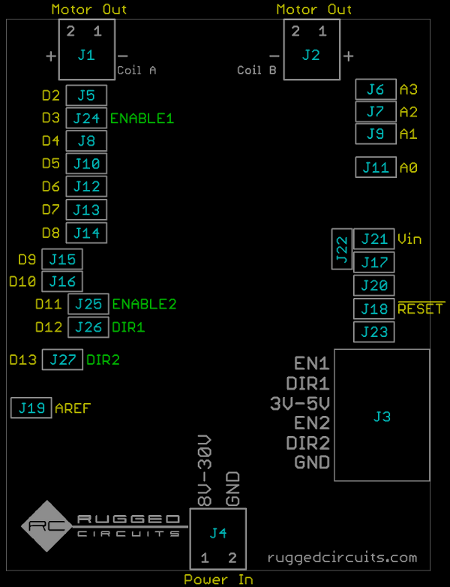 sold out
Rugged Motor Driver
Our best selling motor control product since 2007. Incredibly reliable performance trusted by users across the globe. What makes it so special? The design. For starters its Rugged design is constructed with extra heavy duty copper traces in the PCB for increased performance and improved thermal handling characteristics. The components on the board have been selected for performance. The connectors have been picked for durability. Combined with all the safeguard features, listed below, the design is built to endure. Up to 3 Rugged Motor Drivers can be stacked on a single Ruggeduino or Rugged MEGA.
These test results demonstrate the performance difference between the competition and the Rugged Motor Driver. Rugged Performance
The Rugged Motor Driver also provides these safety features that the competition does not:
Peak DC current 2.8A
Over temperature protection
Over current protection
Shorted motor protection
DMOS Construction
Synchronous rectification
2000V Electrostatic discharge protection!!
What does this mean? The Rugged Motor Driver will outperform and outlast standard motor drivers of comparable price for your important applications.
New Upgraded Rugged Motor Driver. Upgrades include more robust stacking headers and and 2-pin screw terminals. The manufacturing process has been improved with the use of higher quality parts and processes. The new Upgraded Rugged Motor Driver is more durable and will operate more reliably than the already Rugged original!
The Rugged Motor Driver shield is a motor driver for two brush DC motors or one bipolar stepper motor. Rated for 30V and 2.8A peak current operation, the Rugged Motor Driver is the solution for powerful motion. The shield is directly compatible with the Ruggeduino, Ruggeduino-SE, and Ruggeduino-ET, Arduino Uno, Duemilanove, and Mega, or can be used as a standalone motor driver with any microcontroller board. What makes it rugged? Protection against reverse voltage, shorted motors, electrostatic discharge, overcurrent, and overtemperature. Fully assembled and ready to work right out of the box, the Rugged Motor Driver delivers power and ruggedness at an affordable price.
For increased current capacity and improved thermal efficiency consider our Rugged Motor Driver HEAT SINK kit for Cooler Operation.
Features include:
Operation from 8V-30V and 2.8A peak per phase

Reverse voltage protection

Simple enable/direction interface

Use external power or Arduino power

Assembled, with terminal blocks and pin headers included

Stacking headers

Four status LED's

Configurable control pins for driving multiple motors

You can parallel the phases for double the current
Please visit the Technical Information page for full details on usage.